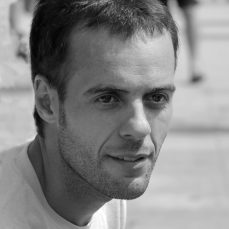 ABOUT
Jordi Ruiz Masó is an international award-winning Spanish filmmaker that has been recognized as one of American Cinematographer's Rising Stars of Cinematography. With a film career that spans well over a decade, he has lensed more than twenty very different movies, including the western
Shooting Star
, winner of the Best Cinematography Award at the 2022 TWBFF Film Festival, the horror-thriller
Captive
, the romantic comedy
Sweet Navidad
, and the thriller
Deviant Love
.
His path has allowed him to use his artistic abilities to capture exceptionally outstanding stars such Academy Award-nominated Kathleen Quinlan (Apollo 13), Scout Tauylor-Compton (Halloween franchise), Neal Bledsoe (The Man In The High Castle), Val Kilmer (Top Gun), Emma Bell (The Walking Dead), AnnaLynne McCord (Secrets and Lies), Danny Trejo (From Dusk Till Dawn), Danielle Savre (Station 19) or Kate Miner (Shameless), to name a few. Recently he has been part of projects for Fox, AppleTV+, Warner Media, The Walt Disney Company, Amazon Prime, Peacock, Tubi, Ion TV, Lifetime, PBS and A&E Networks. Past work includes also music videos, Cold War Kids, Floating Points, Timo Nuñez, and commercials, Acura, That's It, Gatorade.
Furthermore, Jordi has been fortunate to have the pleasure to work as an additional camera operator under Joaquín Sedillo, ASC on such a notable Fox TV show as 9-1-1, Season 6 (Ep. 16 and 17), with some incredibly talented cast members like two-time Oscar nominee Angela Basset (Black Panther), Peter Krause (Six Feet Under), Oliver Stark (Into the Badlands), and Aisha Hinds (ER).
He began his journey earlier in life as a camera operator, spending over ten years shooting television and documentaries for the Spanish national television (RTVE). He later worked as a camera assistant alongside cinematographers from all around the world, moving up to second unit DP, and eventually becoming a cinematographer. Jordi finds joy in collaborating with his crew. He is especially grateful for all of them and how much support, talent and passion they share on set.
Jordi earned his MFA in Cinematography at ESCAC (Cinema and Audiovisual School of Catalonia) as well as a BA in Film at the Pompeu Fabra University, Barcelona. Moving to California doesn't come without challenges, nevertheless, Ruiz Masó got lucky to start his new chapter in Los Angeles in 2012. With his European sensitivity and a Western attitude, he is a storyteller that supports the director's vision with story as key. As an artist, he places a lot of emphasis on the harmony of his visuals and the color scheme of the imagery, carefully examining the palette to include a meaning behind his characters, their emotions, and the surroundings they inhabit.
Interested on social concerns, Jordi has worked internationally for non-profit organizations in the US, Africa, Latin America and Europe like Kids in the Spotlight, InteRed or Red Cross. In addition, he has served as a cinematography instructor at New York Film Academy (Los Angeles) and as a senior lecturer at Del-York Creative Academy, DCA in Lagos (Nigeria) teaching workshops to young Nigerian filmmakers.
Paul Maibaum, ASC has been assigned as Jordi's mentor as a result of the International Cinematographers Guild selecting him to participate in the Mentorship Program. He also receives mentorship from Fernando Argüelles, ASC, who has had a significant impact on his growth as a cinematographer and storyteller.
Fluent in English, Spanish, Catalan, French. Understands Italian and Portuguese.
Permanent residency in the United States and European Citizenship.
Local in Los Angeles, Budapest, Barcelona and Madrid.
Available for work worldwide.
Member of:
AEC (Spanish Society of Cinematographers)
IMAGO (International Federation of Cinematographers)
The Academy of Television Arts & Sciences (Emmy)
Local 600 (International Cinematographers Guild)
Catalan Cinema Academy (ACC)
CREDITS
Experience with following cameras
DIGITAL: ARRI ALEXA 35, ARRI ALEXA MINI LF, ARRI ALEXA MINI, ARRI AMIRA, RED V-RAPTOR (XL), RED WEAPON HELIUM, RED GEMINI, RED EPIC DRAGON (DSMC 1-2, MONSTRO), RED KOMODO, SONY VENICE, SONY FX9, FX6, FX3, SONY F65, SONY F55, A7S, PHANTOM VEO4K, PANASONIC EVA1, BLACK MAGIC, GH5, 5D Mark IV, C500 & VR CAMERAS.
35MM: PANAVISION GOLD II, PANAVISION MILLENIUM, PANAFLEX LIGHT, ARRI3, BL4, ARRI 235, 435, 535, 535B ARRICAM ́S, MOVIECAM (S)16MM: ARRI´S, ARRIFLEX SR2, SR3, 416
---
NARRATIVE (Partial List)
CAPTIVE (horror)
Dir: Gregg Simon / Prod: Tubi / Pollen Path Entertainment
FALLING FOR THE MANNY (rom-com)
Dir: Damián Romay / Prod: Sunshine Films / Reel One
I WILL NOT TAKE CARE OF YOU (drama)
Dir: Andrea Kohn / Prod: Subjective / Kohn & Kohn
SWEET NAVIDAD (rom-com)
Dir: Brittany Underwood / Prod: Peacock / The Ninth House
HIT OR MISS (dark comedy/thriller)
Dir: Matt Toronto / Prod: Toronto Village
DEVIANT LOVE (thriller)
Dir: Michael Feifer / Prod: Netflix / Marvista
SOLVE HQ (mystery TV series/seasons 2-3)
Dir: Various / Prod: HQ
A SOLDIER'S REVENGE (western)
Dir: Michael Feifer / Prod: Amazon / H & G Productions
SOLVE (mystery TV series/season 4)
Dir: Jon Cvack / Prod: Vertical Networks / Snapchat
QUEEN VICTORIA'S WEDDING (drama)
Dir: B.J. Rouse / Prod: Rouse House Entertainment
12 PUPS OF CHRISTMAS (rom-com)
Dir: Michael Feifer / Prod: Ion TV / MarVista
EXPECTANT MOTHER (drama)
Dir: Michael Feifer / Prod: Lifetime / Reel One Entertainment
SHOOTING STAR (western)
Dir: Michael Feifer / Prod: Tubi / H & G Productions
---
COMMERCIALS (Partial List)
THAT´S IT
Dir: Jon Cvack / Prod: Icon Media
FLOW STATE
Dir: Jon Cvack / Prod: Icon Media
ADDICTED TO FEAR
Dir: Jon Cvack / Prod: Icon Media
2022 ACURA MDX
Dir: Paul Maggetti / Prod: Maggetti Productions
SDREAM
Dir: Youngmin Kim / Prod: Cinematic Arts Media
DETU MAX 8K_VR CAMERA
Dir: Youngmin Kim / Prod: Cinematic Arts Media
SABIAN
Dir: Doug Weber / Prod: Sabian
FLASH MD
Dir: Ron Utin Lalkin / Prod: Ronster
GUNPOWDER
Dir: Michael Edo Keane / Prod: Creative
---
MUSIC VIDEOS (Partial List)
GEMINI_TIMO NUÑEZ
Dir: Robertino Fonseca / Prod: TN
I LOVE MEN_ARIELLE
Dir: Robertino Fonseca / Prod: Sequoia Green
4TH OF JULY_COLD WAR KIDS
Dir: Ignatus Fisher / Prod: Bunny Media
REFLECTIONS_FLOATING POINTS
Dir: Anna Diaz / Prod: Pluto & Hamill Industries
LAVENDER LIPS_JULIE MINTZ
Dir: Deborah Correa & Vanat Sermpol / Prod: Moby
---
TV Shows (additional camera operator)
9-1-1 (Season 6 - Ep. 16 & 17)
Dir: Brenna Malloy, Juan Carlos Coto / DP: Joaquín Sedillo, ASC / Prod: 20th Century Fox
---
AWARDS
Winner Award. Best Cinematography. I WILL NOT TAKE CARE OF YOU. Scorpiusfest (2023).
Winner Award. Best Cinematography. SHOOTING STAR. The Wild Bunch Film Festival, TWBFF (2022).
Best Cinematography Nomination. A SOLDIER'S REVENGE. The Wild Bunch Film Festival, TWBFF (2020).
Winner Award Camera Operator of the Year (student category). American Society of Camera Operators, SOC (2015).
Winner Award. MENU FOR TWO. Film Festival Enmut (2012).
Winner Award. 1998. Creating 08 (2008).
Publications
American Cinematographer magazine, ASC_Rising Stars of Cinematography (2019)
---
CONTACT
Represented by
GSK Talent
T. (323) 782 1854
Ivana Savic
ivana@gsktalent.com
HIT ME UP