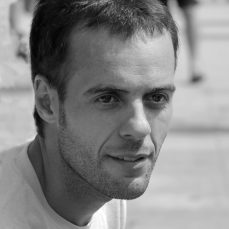 ABOUT
JORDI RUIZ MASÓ
Director of Photography Jordi Ruiz Masó, AEC has lensed over twenty very different movies, including the western,
A Soldier's Revenge
, 2020 TWBFF Film Festival, the horror-thriller
Captive
, the romantic comedy
Sweet Navidad
, and the thriller
Deviant Love
, which is streaming now on Netflix. Likewise, he was showcased in the issue of American Cinematographer Magazine as a
Rising Star of Cinematography
.
His feature film work has played worldwide in theaters and festivals. Recently he has been part of projects for AppleTV+, Warner Media, The Walt Disney Company, Amazon Prime, Ion TV, Lifetime, Lifetime Movie Channel and A&E Networks. Past work includes also music videos, Cold War Kids, Floating Points and commercials, Acura, Gatorade.
Ruiz Masó moved to LA from Barcelona in 2012, speaks fluent English, French, Spanish and Catalan. He is an active member of the Spanish Society of Cinematographers (AEC), IMAGO and the Television Academy (Emmy).
Jordi earned his MFA in Cinematography at ESCAC (Cinema and Audiovisual School of Catalonia) as well as a BA in Film at the Pompeu Fabra University after spending nearly a decade shooting news, television and documentaries for the Spanish public television (RTVE).
He is also privileged to be part of the International Cinematographers Guild - Local 600, and the Catalan Cinema Academy (ACC).
With an interest on social issues, Jordi has worked for non-profit organizations in the USA, Latin America and Europe like Kids in the Spotlight, InteRed or Red Cross. He likes traveling, running in nature, surfing, yoga, meditation, taking pictures, eating out and of course spending time with family and friends.
Ruiz Masó is passionate about cinematography and continues his career as a director of photography, developing narrative, music videos and commercials. In addition, when he is not on set, he collaborates as a cinematography instructor at New York Film Academy (Los Angeles).
Authorized to work in the United States and the European Union.
Local in Los Angeles, Barcelona and Madrid.
Able to travel.
CREDITS
Experience with following cameras
DIGITAL: PHANTOM VEO4K, ARRI ALEXA MINI LF, ARRI ALEXA MINI, ARRI AMIRA, RED WEAPON HELIUM,
RED GEMINI, RED EPIC DRAGON (DSMC 1-2, MONSTRO), RED KOMODO, SONY VENICE, SONY FX9, FX6, FX3, SONY F65, SONY F55, A7S, PANASONIC EVA1, BLACK MAGIC, GH5, 5D Mark IV, C500 & VR CAMERAS.
35MM: PANAVISION GOLD II, PANAVISION MILLENIUM, PANAFLEX LIGHT, ARRI3, BL4, ARRI 235, 435, 535, 535B ARRICAM ́S, MOVIECAM (S)16MM: ARRI´S, ARRIFLEX SR2, SR3, 416
---
FEATURES (Partial List)
SWEET NAVIDAD (family)
Dir: Brittany Underwood / Prod: The Ninth House
CAPTIVE (horror)
Dir: Gregg Simon / Prod: Pollen Path Entertainment
HIT OR MISS (dark comedy/thriller)
Dir: Matt Toronto / Prod: Indep
DEVIANT LOVE (thriller)
Dir: Michael Feifer / Prod: Netflix / Marvista
SOLVE HQ (mystery TV series/seasons 2-3)
Dir: Various / Prod: HQ
A SOLDIER'S REVENGE (western)
Dir: Michael Feifer / Prod: H & G Productions / Amazon
SOLVE (mystery TV series/season 4)
Dir: Jon Cvack / Prod: Vertical Networks / Snapchat
QUEEN VICTORIA'S WEDDING (drama)
Dir: B.J. Rouse / Prod: Rouse House Entertainment
12 PUPS OF CHRISTMAS (comedy)
Dir: Michael Feifer / Prod: Ion TV / MarVista
EXPECTANT MOTHER (drama)
Dir: Michael Feifer / Prod: Reel One Entertainment / Lifetime
THE CURSE OF MANIZALES (horror)
Dir: Fito Rivera / Prod: Rivera Films Studio
SHOOTING STAR (western)
Dir: Michael Feifer / Prod: H & G Productions
---
COMMERCIALS (Partial List)
FLOW STATE
Dir: Jon Cvack / Prod: Icon Media
ADDICTED TO FEAR
Dir: Jon Cvack / Prod: Icon Media
2022 ACURA MDX
Dir: Paul Maggetti / Prod: Maggetti Productions
SDREAM
Dir: Youngmin Kim / Prod: Cinematic Arts Media
DETU MAX 8K_VR CAMERA
Dir: Youngmin Kim / Prod: Cinematic Arts Media
SABIAN
Dir: Doug Weber / Prod: Sabian
FLASH MD
Dir: Ron Utin Lalkin / Prod: Ronster
GUNPOWDER
Dir: Michael Edo Keane / Prod: Creative
---
MUSIC VIDEOS (Partial List)
I LOVE MEN_ARIELLE Dir: Robertino Fonseca / Prod: Sequoia Green
4TH OF JULY_COLD WAR KIDS Dir: Ignatus Fisher / Prod: Bunny Media
REFLECTIONS_FLOATING POINTS Dir: Anna Diaz / Prod: Pluto & Hamill Industries
LAVENDER LIPS_JULIE MINTZ Dir: Deborah Correa & Vanat Sermpol / Prod: Moby
---
AWARDS
Best Cinematography Nomination. A SOLDIER'S REVENGE aka SOLDIER'S HEART. TWBFF (2020).
Winner Award Best Cinematography. A WOMAN DECEIVED. Telly Awards (2017).
Winner Award Camera Operator of the Year (student category). American Society of Camera Operators, SOC (2015).
Winner Award. MENU FOR TWO. Film Festival Enmut (2012).
Winner Award. 1998. Creating 08 (2008).
Publications
American Cinematographer magazine, ASC_Rising Stars of Cinematography (2019)
---
CONTACT
Represented by
GSK Talent
T. (323) 782 1854
Ivana Savic
ivana@gsktalent.com
SEND ME A MESSAGE